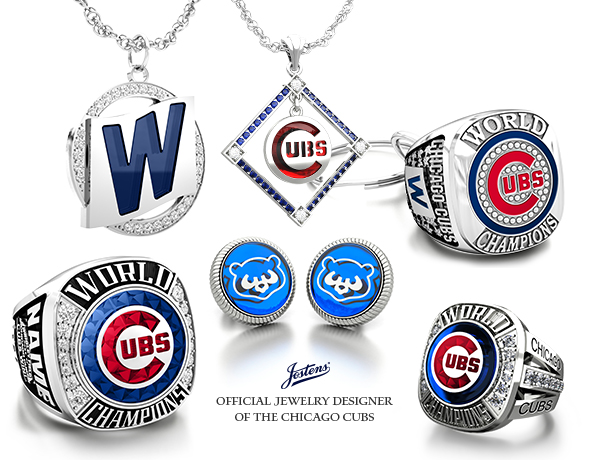 This Limited Edition Collection of official jewelry and collectables is specially designed to give all Cubs fans an opportunity to share in the 2016 World Series victory. Shop the Official Fan Collection now.

The Chicago Cubs 2016 World Series Championship Ring commemorates the team's historic season that culminated in a ring that was 108 years in the making.

The ring is made from 14-karat white gold and the ring top features the traditional Cubs bullseye logo masterfully crafted from 33 custom-cut genuine red rubies surrounded by 72 round white diamonds, all within a circular perimeter made up of 46 custom-cut, genuine blue sapphires. 108 round white diamonds surround the bezel on all sides, lifting the Cubs to their first World Series Championship in 108 years.

The words WORLD CHAMPIONS surround the top and bottom edges of the ring with an antiqued finish. The entire ring includes 5.50 carats of diamonds, 3.0 carats of genuine Burmese rubies and 2.5 carats of genuine sapphires.

One side features the player's name set atop the iconic "Fly the W Flag," which is created from 31 round white diamonds and a fire blue corundum understone that forms the "W." Silhouette images of the iconic Wrigley Field bricks and ivy surround the flag and the player's number, which sits below the flag.

The other side features the championship year 2016 above a silhouette of the Wrigley Field façade and marquee displaying the message CUBS WIN! A silhouette of the World Series trophy sits below the marquee with a large round white diamond set in the center signifying the 2016 World Series victory.

Two princess cut diamonds flank the trophy – one on each side – representing the team's two previous World Series titles. The iconic Wrigley Field bricks surround the other imagery in the background.

On the palm at the bottom of the outer band is the team's rallying cry "WE NEVER QUIT." On the inside of the ring is a custom triple arbor which features an image of the famous goat, the date and time of the championship – 11/3/16 • 12:47 AM EST – and the series scores and logos of the three teams the Cubs defeated on their epic journey to becoming 2016 World Series Champions.